Testimonials | 17-09-19
Sharam stopped his hair loss with a hair transplant
Sharam, 43 years old
Sharam lived a very hard lifestyle with a lot of stress, one where he worked on his companies 80-90 hours per week while being on a strict diet. This resulted in losing a lot of hair and the hair becoming brittle. He had done some PRP-treatments that halted the hair loss almost completely and stimulated some new hair growth. It was still thin and he was not totally happy with his hair so he decided to undergo a hair transplant, since this was the only solution for him to regain his full head of hair.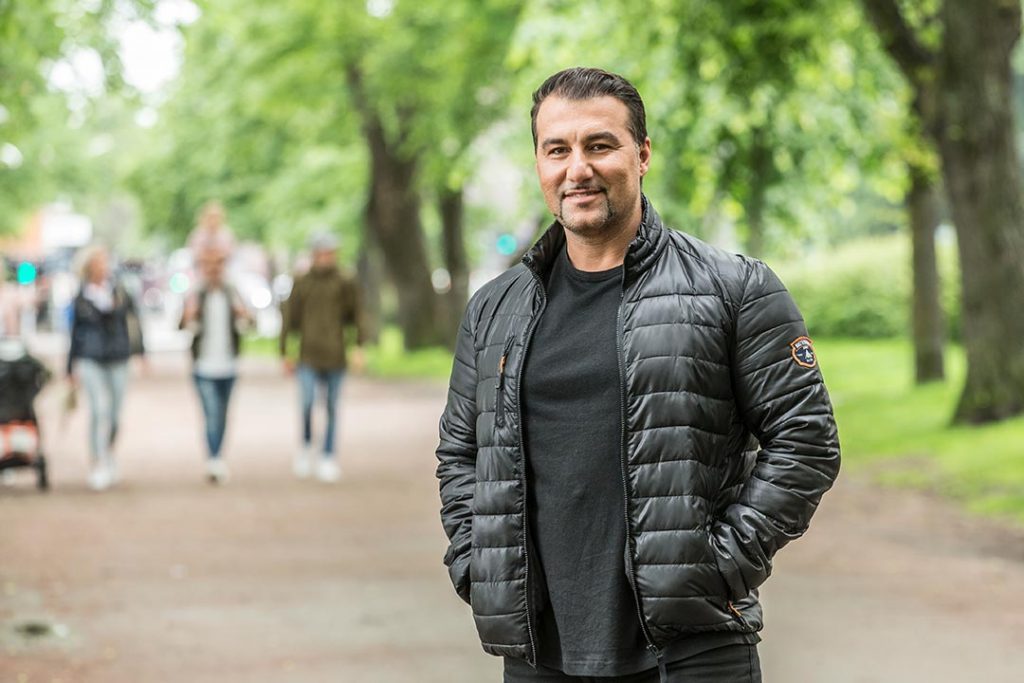 "I had really good hair when I was younger. All the hard work and the strict diet over the last 5 years has resulted in a lot of stress and my body suffered from it and I started losing a lot of hair. It didn't affect my well-being but it annoyed me."
Sharam, 43, has been active within the fitness and health business for almost 20 years. He has competed at an elite level in both fitness and martial arts. Other than that, he has run a café, a gym and a cleaning business. Now he also works as a fitness coach, named Shape by Sharam.
"As I said I started having PRP-treatments. That helped a bit, but I didn't feel totally happy and wanted to have more hair. Since PRP isn't able to create new hair follicles I started looking into hair transplants. I started to investigate what results others had. I knew of some acquaintances that had hair transplants, but I didn't know too much about it then. I asked around, heard about the FUE method and Nordic Hair Clinic was recommended to me, where my acquaintances had done their hair transplants. I decided to go for it."
What were your thoughts before and after the treatment?
I'm a little bit afraid of needles and knew that you're awake during the procedure, so I was a little nervous. I knew that the pain wouldn't be a problem. The anaesthesia hurt a little but then I didn't feel a thing. I'm a little antsy and it was a challenge to lie still for the duration of the procedure.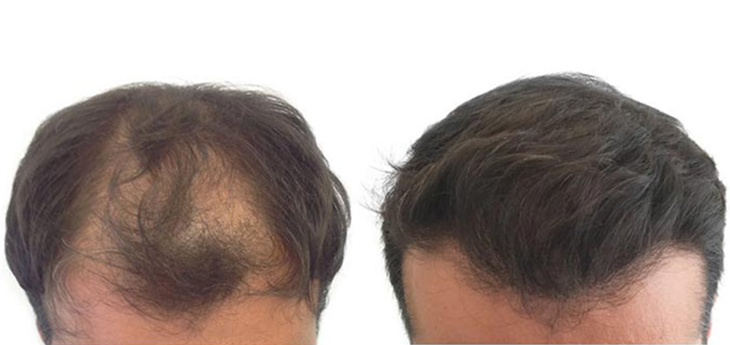 Before and after, 2 000 grafts
What was the healing period like? Did people ask you about it?
I was pretty swollen and tender during the first two days. When I was allowed to wear a hat, I wore it frequently. As I said, I was never bald and when the scabs were gone people only reacted to my shaved head. No one understood that I had done a hair transplant before I told them about it. They thought it was pretty cool, asked questions and reacted mainly positively. It was never a big thing.
What is the big difference after?
Now that it's been two years since they transplanted 2 000 grafts from the hairline to the top of my head I can see a huge difference. I think it looks really good! It has started to thin out at the top of my head now as well so I'm thinking about doing another hair transplant.
If your friends started to lose their hair, would you recommend going through this procedure to them?
Yes, I would recommend both the PRP and the hair transplant. If you've lost a lot of hair and it's very thin and you have the economic possibility I think you should do it. If it bothers you, get a bank loan and just do it. I'm thinking about doing another one.
Hair transplant
The last few years, Arnt had started feeling uncomfortable with how he looked. He tried taking medicine against hair loss, but when that didn't work, he chose to have a hair transplant.
Hair transplant
Massimo had wanted to get a hair transplant since he first started to lose his hair as a teenager. He flew from Rome to our clinic in Stockholm to do it on a friend's recommendation.
Hair transplant
Myriam had a hair transplant to lower her hairline. Read her testimonial about how it has felt to have a hair transplant as a woman.