Testimonials | 16-05-19
Propecia didn't work, that's when Arnt had a hair transplant
Arnt, 47 years old
Arnt is from Norway but has lived in Sweden for years. In the course of his work as marketing director, he meets a lot of people and sometimes gives lectures. In later years, he'd started to feel uncomfortable with himself and his appearance. After reading up on different solutions for hair loss, and after trying Propecia without seeing any changes to the baldness, he chose to schedule a consultation for a hair transplant with Nordic Hair Clinic.
"I chose to come to Nordic Hair Clinic because I was uncomfortable looking at myself in the mirror. My hair loss started 10–12 years ago and it had become a problem for me. That's when I felt, what should I do? Should I shave off all my hair? I sent out a couple of inquiries to different clinics that perform hair transplants, but I felt very welcome here. I was given great advice during my consultation. It felt very safe," Arnt recounts.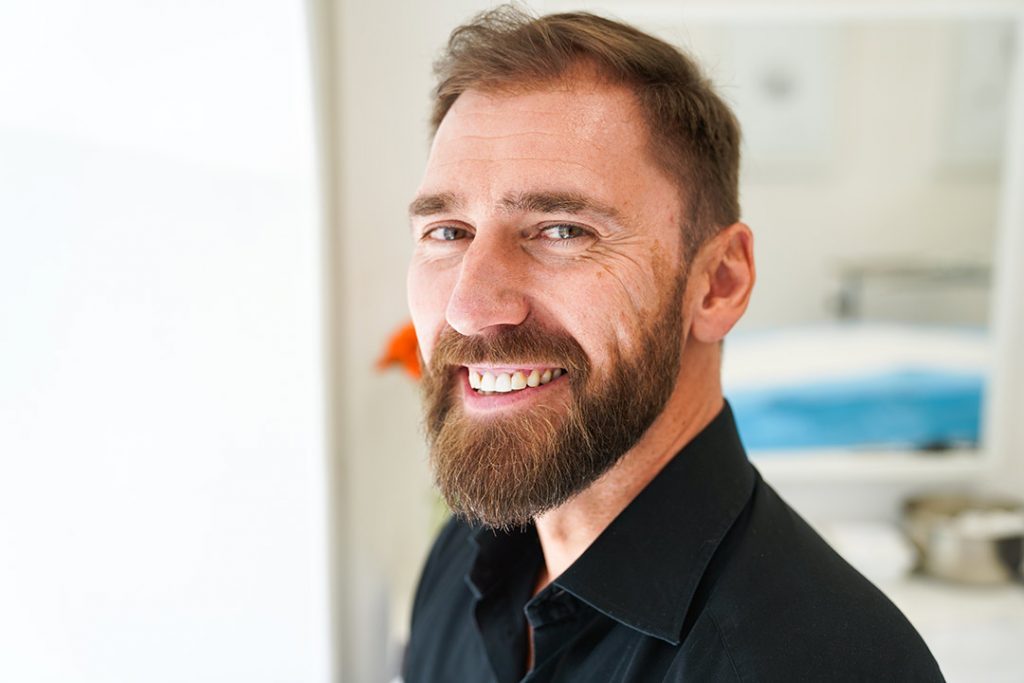 Arnt before his hair transplant
How Arnt prepared for the hair transplant
For Arnt, a hair transplant is about getting back to a sense of security with oneself. The fact that he didn't feel quite comfortable with himself and the way he looked at social gatherings became a growing problem.
"That's when I thought I could do something about it, and when you start reading up on hair transplants, how the process works, what can be done, and how easy it is, you start to wonder why more people don't do this when they are suffering," Arnt says.
The day before his hair transplant, Arnt was mostly nervous about how he would look with his head shaven and how he would look directly after the procedure. He tried to be as prepared as possible.
"The most important thing for me is to research and to understand what will happen after the operation. It's important to keep up the aftercare so that you don't create problems for yourself. It's a major change and it takes time, but the most important thing is for you to feel safe and know that it will be all right in the end. The information you have on the website is very informative and good, so that has also made me feel safe going into an operating room."
Arnt describes the sequence of events
"The transplant went well. It took time, but that wasn't a problem. Then I had 20 minutes to get some food and energy. I didn't feel any pain or discomfort. It's a very strange feeling when the whole head is numb. You don't feel anything. It feels more like you have a helmet on your head and you can hear things happening, but you have no idea what because you feel nothing. So it was pretty nice," Arnt says and laughs.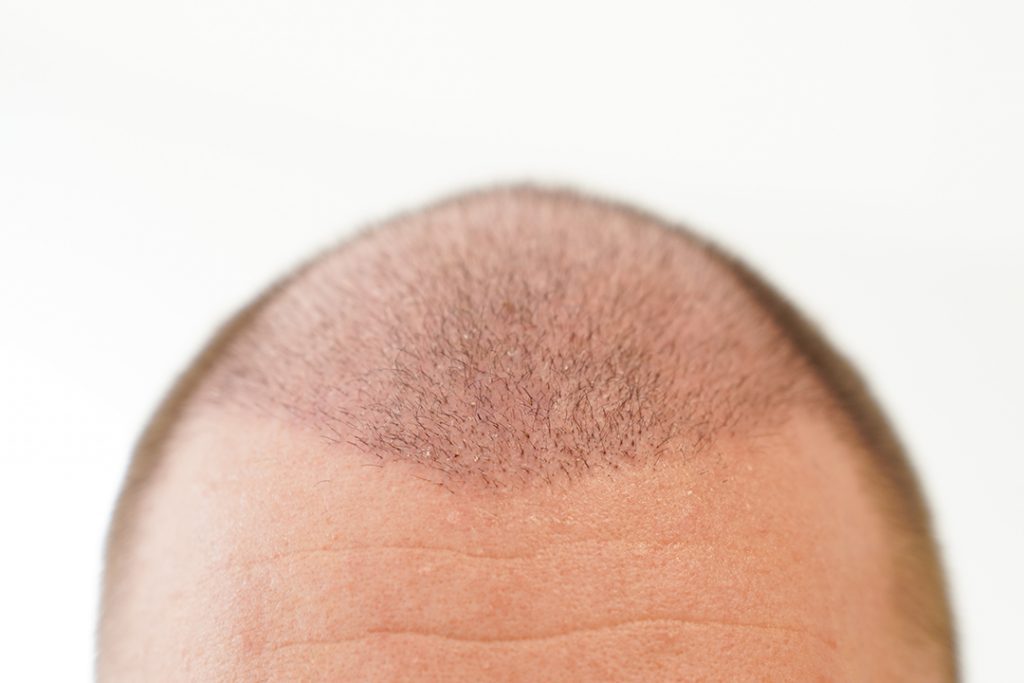 The transplant area 2 weeks after surgery
The first days after a hair transplant
The day after the hair transplant, it's time to remove the bandage from the donor area. Arnt had his girlfriend, who thought it was a bit disturbing as he'd bled some during the night, help him. Seeing some blood or exudate during the first night is a normal part of the healing process and you just need to wipe it clean with an absorbent tissue.
"The first night was actually more pleasant than the second night. With the bandage, I slept sitting up and I was probably very tired from the surgery, so I fell asleep pretty much immediately. The second night was harder because the donor area was very exposed and there was some bleeding in places. I got a bit stressed because I didn't want to lean back on that area. You know, you've had a time-consuming procedure. You don't want to do anything that will disrupt the healing process. So on the second night, I was more focused on sitting up and sleeping in the right position so I couldn't really relax. But after that, I didn't have any problems."
"The weird thing is that I have a mental picture of myself with hair, so when I look myself in the mirror with shaved hair, I get a bit of a shock. But you can tell there's hair there and that it's coming back, so that's nice. I'm looking forward to it. It's itchy right now but it's good to see some progress," Arnt says.
Hair transplant
The last few years, Arnt had started feeling uncomfortable with how he looked. He tried taking medicine against hair loss, but when that didn't work, he chose to have a hair transplant.
Hair transplant
Massimo had wanted to get a hair transplant since he first started to lose his hair as a teenager. He flew from Rome to our clinic in Stockholm to do it on a friend's recommendation.
Hair transplant
Myriam had a hair transplant to lower her hairline. Read her testimonial about how it has felt to have a hair transplant as a woman.