Testimonial | 30-04-19
Massimo traveled to Stockholm from Rome to get new hair
Massimo, 39 years old
Massimo traveled from Italy to get a hair transplant in Sweden at Nordic Hair Clinic. He had considered getting a hair transplant in Italy, Turkey, or Greece, but when he saw the results his friend got, and hearing such good things about the clinic, he decided to fly out to Stockholm. We took the opportunity to interview him about his journey towards better hair.
"I started losing hair when I was a teenager, 16 years old. When I was 19, it was very obvious in the crown. The crown at the back of the head had become a large, empty square. I dealt with the hair loss emotionally, so it wasn't such a big problem over the years, but deep down I always dreamt of the day when technology would be advanced enough to fix this and make my dream come true. Now I'm excited about finally, after all these years, getting to have a hair transplant," Massimo recounts.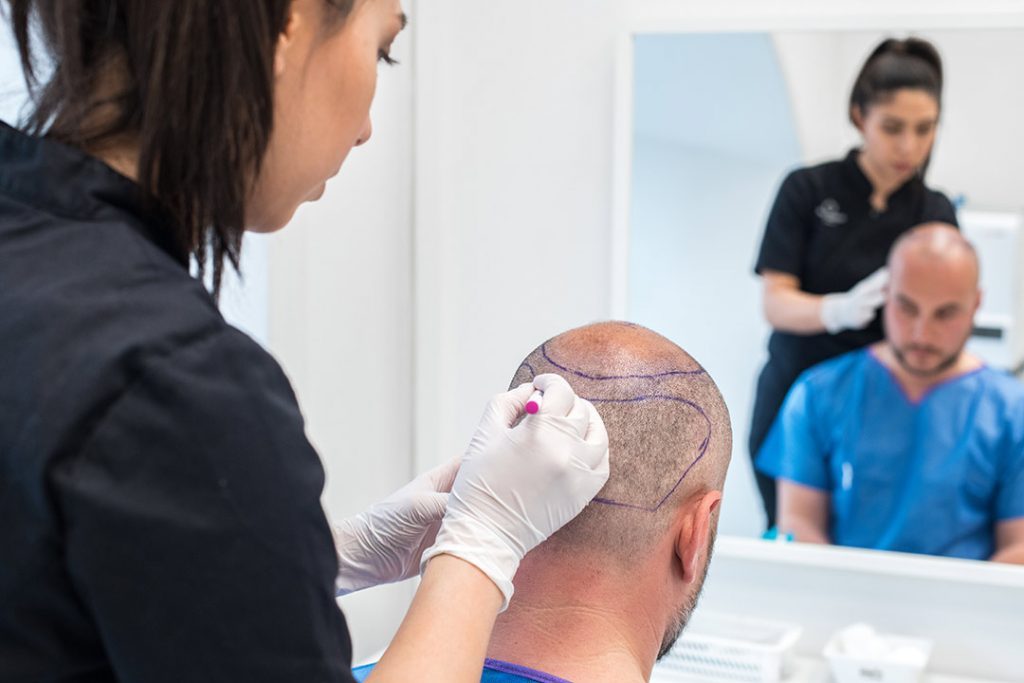 Traveling from Italy to Sweden to get a hair transplant
Across the street from the clinic is a hotel where Massimo stayed during the days when he was in Stockholm for his hair transplant. After his hair transplant, Massimo stayed in Sweden for a few more days to have his PRP treatment.
"It was a bit of a vacation for me. I didn't expect it to be this sunny and pleasant in Stockholm in February. That alone was a nice experience."
The day after his operation, Massimo returned to the clinic to remove his bandage.
"Taking off the bandage was an interesting experience. I was worried it would hurt. Luckily, it didn't. But I was a bit shocked to see the donor area. It's bigger than I thought it would be. At the same time, that's a good thing, because it means they could extract a lot of grafts and transplant them to the area where I'm missing hair. It doesn't hurt, though," Massimo says.
The first night after the procedure
After a hair transplant, it's often a bit awkward to sleep during the first couple of nights since you're sleeping in a position you're not used to. This is to avoid contact with the newly transplanted hair, which is in its most critical stage during the first couple of days following a hair transplant. Massimo found he had trouble relaxing and that he woke up a lot during the first night.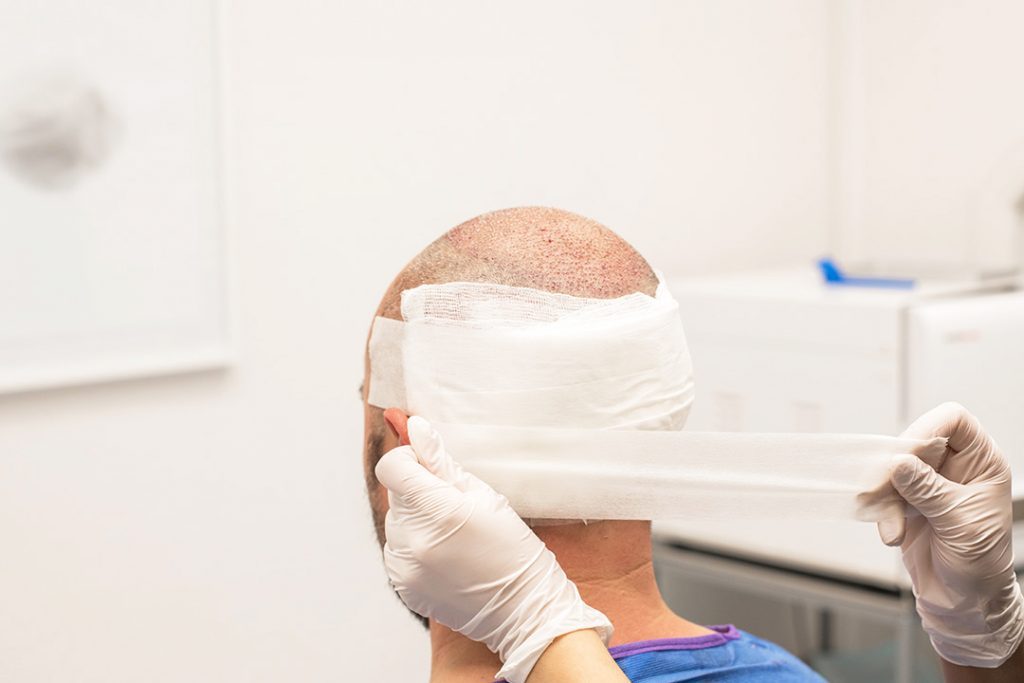 "Netflix helped a lot. I never felt weak or dizzy, but I feel more stable now on the day after the hair transplant. I brought 2 neck pillows – the kind you use on airplanes – and it helped a lot. I was given a number for a doctor who I could call whenever I needed, even at night, but I never felt like I needed to," Massimo says.
On the second night, Massimo found it much easier to get some sleep. After his first PRP treatment, 2 days after the operation, he had slept through the night without any issues.
Massimo looks forward to the results
1 PRP treatment is included in the price as aftercare following a hair transplant in Sweden. Massimo had heard that PRP had many positive effects on hair and that it helps the transplanted hair to start growing.
"I look forward to my treatment. It's really simple. It's a blood test and some injections. I could feel the needles, but it wasn't painful, unlike getting the anesthetic for the operation," Massimo says.
After his hair transplant, Massimo feels more than happy that he had the procedure. He looks forward to seeing the results.
"I would like to fast-forward my life right now to see what I will look like in 6 months or a year from now. I would recommend a hair transplant to others who want to feel more comfortable with themselves. If you look in the mirror and don't recognize yourself, you should come here and get it done. It looks scarier than it is," Massimo recounts.
Hair transplant
The last few years, Arnt had started feeling uncomfortable with how he looked. He tried taking medicine against hair loss, but when that didn't work, he chose to have a hair transplant.
Hair transplant
Massimo had wanted to get a hair transplant since he first started to lose his hair as a teenager. He flew from Rome to our clinic in Stockholm to do it on a friend's recommendation.
Hair transplant
Myriam had a hair transplant to lower her hairline. Read her testimonial about how it has felt to have a hair transplant as a woman.