Frequently asked questions about hair transplants
Here you can read about the most frequent questions we get from our patients which we think are essential for their hair transplants.
You are always welcome to contact us.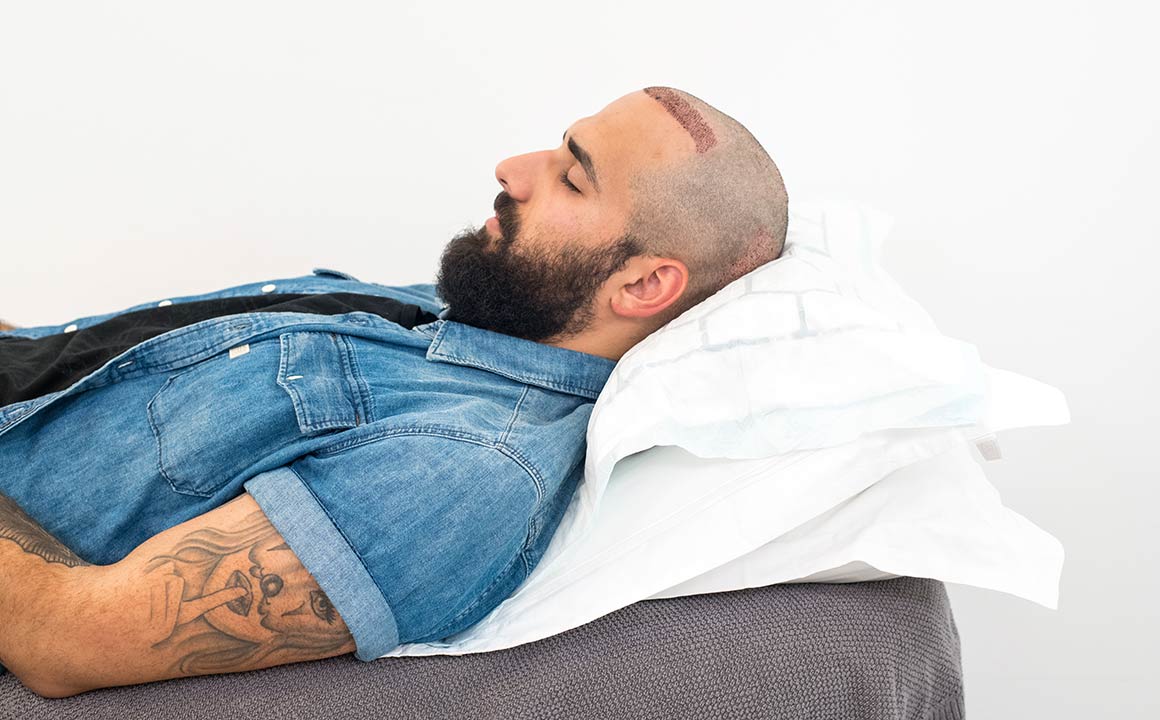 Frequent questions about hair transplants
What is a hair transplant?
During a hair transplant, hair is removed from one area with plenty of hair, to another area where hair growth is desired. The transplanted hair follicles get rooted within 24 hours and immediately begin to produce a naturally growing hair. After 3 to 4 months everything has grown out and after 12 months all hair follicles have received maximum quality and thickness.
Normally you pay for a hair transplant depending on how many grafts we can extract from your donor area. But when you travel to one of our clinics in Sweden, you pay a fixed price of €3 200 no matter how many grafts we transplant.
Does the hair that is removed from the back of the head grow back?
The hair transplanted from the back of the head does not grow back. The transplant itself means that the entire hair follicle from the back of the head is removed. When a transplant is well made, the difference between your normal hair and that which has been transplanted will not be very noticeable. You will not be completely hairless on the back of the head when you have done a hair transplant.
How many hair transplants can I have?
How much hair you can transplant depends on how good the donor area is. Some people can only have 3,000 grafts extracted and others can have as many as 7,000 grafts extracted.
When do the scabs disappear?
The scabs usually fall off up to 1–2 weeks after the operation.
When can I see the results of a hair transplant?
We usually say that you can see the full results after 12 months. Hair grows differently for different people, some people can already see good results after 6 months. It is important to be patient when having a hair transplant.
How long is the healing process?
The most critical time is the first 2-3 days when the transplantation area is very sensitive. The first week you should be extra careful. After 2 weeks it is okay to start working out, but you should still be a little careful with the sun and be careful with the newly transplanted hair. After 3 weeks you can generally do most things in everyday life, but avoid things like nodding a football, wearing a helmet or shaving with a metal razor. We are always available for questions afterwards.
What should I consider before my hair transplant?
Questions about the hair transplant
Can I use a hat or a cap after the transplant?
It is not recommended to wear a hat or a cap until a week after the operation as there is a risk of scraping down the hair follicles. After a week its fine to have a hat or cap if it is not too tight. Keep in mind that the hat or cap should not press on the transplanted area for at least two weeks to come.
When can I cut my hair again?
If you want, you can trim your hair after three to four weeks. It is important not to trim the hair more than 3-4 mm for the first time. After six weeks, it is possible to trim the hair down to 2 mm. Do not shave for the first six months. After four weeks you can dye your hair.
Can you transplant hair from one person to another?
No, you can't as there is a high risk this could result in complications and disease.
Is it possible to clone hair for a hair transplant?
Research is being done for different methods to prevent hair loss. Because it is such a complicated area, we currently neither have the tools nor the knowledge of how these types of treatments can be done.
Could you transplant hair from other parts of the body?
Yes, when you don't have enough hair in the neck for a transplant, you can perform a so-called Body Hair Transplant where you take hair from other body parts, such as the chest.
Questions about beard transplant
Could you transplant beard around the throat?
Since there are a lot of blood vessels, veins and other sensitive organs around that area, Nordic Hair Clinic does not perform these types of beard transplants. The risks involved are too high.
Who can go through a beard transplant?
Most men can go through a beard transplant. We will find out how many grafts (hair follicle groups) are needed during the consultation alongside with how large the area is to be covered and how much hair is already growing on the cheeks. We prefer taking hair from the back of the head but also from the chest if needed.
When can I start to shave?
After 4 weeks you can start trimming the beard with a trimmer but no shorter than 3 mm. It is important that the trimmer has a plastic cover or a plastic comb on the razor. It is also important that you do not shave with a razor directly on the skin before 6 months have passed. Only after 6 months can you shave with a metal razor without risking damaging the transplanted hair follicles.
When can I start eating solid foods again?
After a beard transplant, you can't eat anything solid for the first four days. Instead, you get to drink soup through a straw. This is to avoid the newly transplanted hair follicles being damaged by the chewing you do when eating. After 4 days, the hair follicles have grown, and you can eat as usual again.
Frequent questions about PRP treatment
During a PRP treatment you can feel some mild stinging and feel a little uncomfortable, especially during the first treatment. But in general, PRP treatments are simple and take place without discomfort. Before PRP skin treatment you will get numbing cream before the actual treatment begins to avoid stinging as much as possible.
How is an PRP treatment preformed?
Firstly, a regular blood sample of approximately 24 ml is centrifuged to separate the growth factors, which are clearly seen in form of a yellow plasma layer. This is then injected superficially into the scalp.
How much blood is extracted each PRP treatment?
Usually we draw approximately 24 ml of blood for each PRP treatment. The amount of blood we draw depends on the size of the surface that is to be treated in order to offer as efficient treatment as possible.
Are there any side effects of a PRP treatment?
The treatment is safe and natural because it is your own blood that we use. There may be some redness immediately after treatment, but it goes away a few hours afterwards. Immediately after treatment, you can return to your regular everyday activities.
Frequent questions about travelling to Sweden
Is transport from my country to Sweden included in the price?
You pay for the cost yourself. This is because there are many different ways to get to Stockholm or Gothenburg, whether it is by air, car or train and it becomes difficult for us to pay for this on a practical level when our patients travel here in different ways from several different countries.
What's included in the price for a hair transplant in Sweden?
You stay 2 nights in a four-star hotel that is within walking distance to the clinic. The day after your hair transplant we take off your bandage and you will receive a PRP treatment. Regardless of the number of grafts you transplant, you pay a fixed price.
How many PRP treatments are included in the price?
When you have your hair transplant at one of our clinics in Sweden, 1 PRP treatment is included, which we perform the day after your hair transplant.
How far is the distance between the clinic and the hotel?
Both in Stockholm and Gothenburg, the distance is about 100 m.
Can I bring company on my trip?
Of course! Many patients choose to bring a relative or a friend as support, but also to experience Stockholm or Gothenburg, two very beautiful cities. Transport costs for your company are not included.
Is it easier to get an infection if I travel after my hair transplant?
So long as you don't directly place your head on any dirty areas while you travel home after your hair transplant, you do not need to worry about getting an infection. After a hair transplant, you are given antibiotics to lower risk of infection. We also recommend a neck pillow to help avoid placing your head on anything while you travel and for added comfort.